A crowdfunding campaign with the goal of reaching $102 billion – the potential cost of world peace. We are Svenska Freds, the world's oldest now active peace organization, established in 1883. In our latest initiative we asked ourselves:
— In a time when you can buy anything, can you also buy world peace?
Last year, the economic cost of armed conflict was $1.02 trillion. Peace, however, is much cheaper. Studies show that if we spend a dollar on building peace in conflict countries we reduce the cost of conflict by $16. And if we just imagine spending 10% ($102 billion) of the cost of conflict on preventing it, it could potentially be enough to achieve world peace.

Co-founder of world peace
The more we invest in peace, the less we spend on violence. That's what people in suits call a win-win situation. That is why we need you, the future co-founders of world peace. If we split the bill on everyone in the world, it's about $13 each. That's less than a lot of people usually spend on buying crappy products online.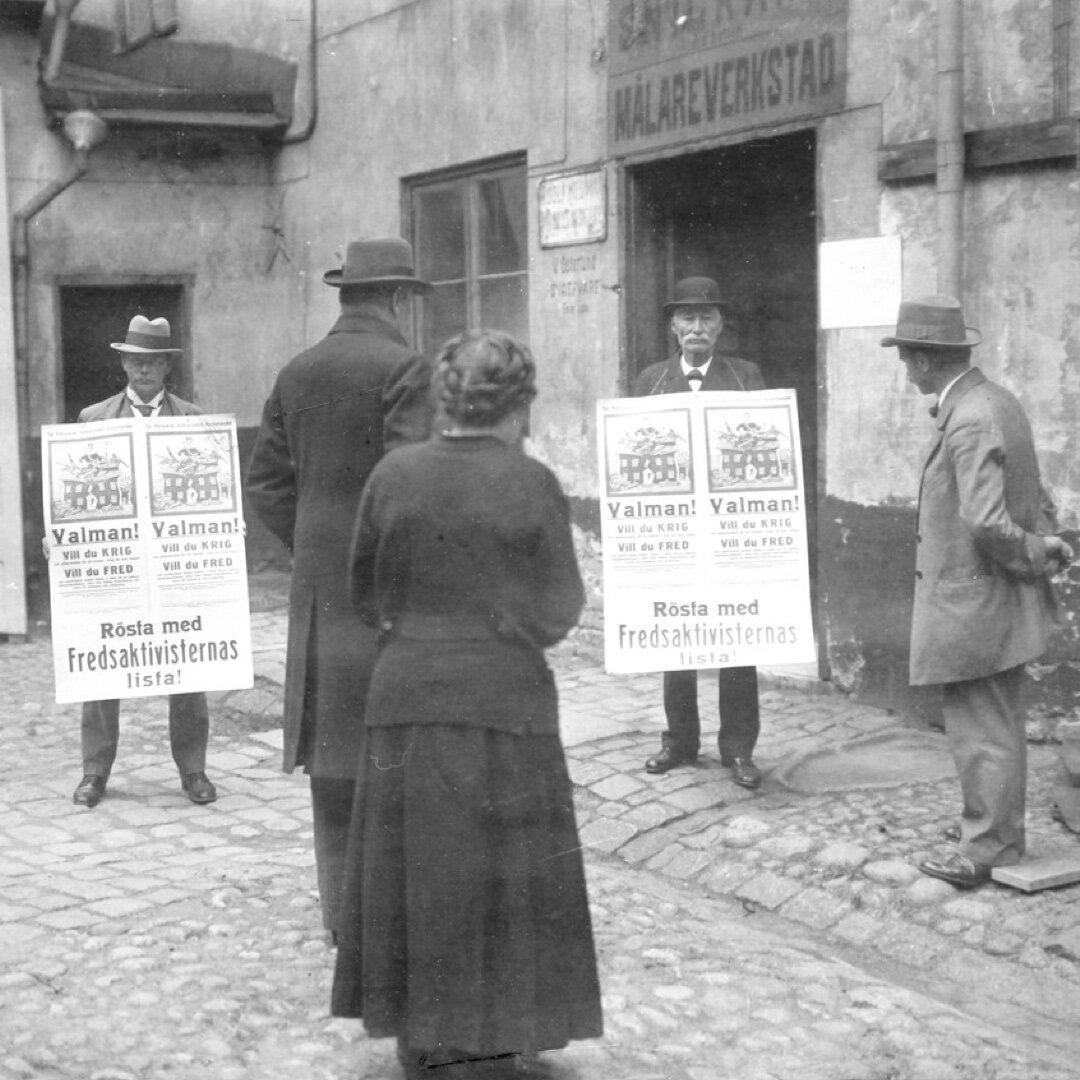 Fighting for peace since 1883
This is an initiative by Svenska Freds. Throughout history, we have been a part of initiatives that have been awarded the Nobel Peace Prize at four different times. We are the world's oldest now active peace organization.
Some answers to your questions
Why have you initiated this campaign?
"The world is over-armed and peace is underfunded", as the former UN Secretary-General Ban Ki Moon often repeated. It has enormous consequences for our world and for all of us who live here. War and the subsequent impact on people and the environment are deliberate destructions that we have every possibility to prevent. At the same time, the economic, environmental and humanitarian costs of war are enormous. Calculations from the Institute for Economics and Peace show that the cost of armed conflict reached $1.02 trillion in 2017 (such a huge amount that it doesn't even fit in your smartphone calculator). Looking at the global economic consequences of violence in a broader sense, the figure is even greater: $14.76 trillion.

However, preventing armed conflict is both possible and a very good deal in comparison with the enormous consequences of these conflicts. The Institute for Economics and Peace has shown that if we invest a dollar in building peace in conflict-affected countries, we can lower the cost of conflict by $16. In other words, it is much cheaper to build peace than to deal with the economic consequences of war. Today, we know a lot about what causes armed conflicts, and often these are issues that we could easily fix if resources were spent on the right things. So why do we continue to invest in war instead of peace?
What's the goal of this initiative?
We want to turn around the development in the world towards investing in what we want, rather than in the problem. With the campaign, we want to raise awareness of this problem and show that the world could actually look different. If we together can reflect on what the world's resources are invested in and what it might look like if we did differently, we are well on the way towards change. We also want to increase resources to build sustainable peace by giving people an opportunity to join and kick-start world peace.
How do you define peace?
To us, peace is more than the absence of war and of direct armed violence. Sustainable peace is when there is a way in a society to peacefully deal with the conflicts that arise, for example through institutions and norms. It is also about working with the root causes of conflicts, such as unequal allocation of resources or limited power to influence. Sustainable peace is peaceful relations between states, groups, communities and individuals. If we strive for sustainable peace, we need to focus on what is called human security with people's security, safety and rights.

Sustainable peace between countries is characterized by the absence of military armaments and war preparations. When sustainable peace prevails, the parties have a common belief that an armed conflict between them is excluded and that future conflicts will be resolved through cooperation and with peaceful means. Peace is about relationships and needs  to be invested in and constantly maintained. Military strength and deterrence, on the other hand, create a fragile peace with a short expiry date.
Is it really possible to buy peace?
Well, yes and no. Of course you can't buy everything, but in a way, a lot is up for sale. In order to create sustainable peace in the world, we need to invest in the right things. In a world of rising tensions and increased militarisation, there is a great need for increased knowledge of how we can invest in and build peaceful and inclusive societies. Many of the root causes of armed conflict are related to the lack of access to basic needs such as food, water, health care, and sufficient resources to build structures to resolve conflicts peacefully. And it is about political will to prioritize resources for these factors and others that contribute to peaceful and inclusive societies. Sometimes the solution is about getting politicians and decision makers to prioritize the issue of sustainable peace. Or about supporting organizations, peace and human rights activists who are fighting for a peaceful world. In the end, most of it depends  on money. We get what we invest in, and right now huge resources are being invested in military armament around the world. The UN annual budget for nuclear disarmament is $10 million. At the same time, nuclear weapons states spend $12 million per hour on the production and modernization of their nuclear weapons.
Is world peace only $102 billion?
Of course, it is not that simple. We have not found any exact research on what world peace would cost. However, some calculations do exist. The think tank Institute for Economics and Peace, IEP, uses comprehensive accounting methods to calculate the direct and indirect costs of violence and armed conflict. The IEP's cost of armed conflict, $1.02 trillion in 2017, consists of estimated costs of deaths in conflict, terrorism, loss in GDP due to conflict as well as internal and external refugees. Their studies have also shown that if we invest a dollar in building peace in conflict-affected countries, we can lower the cost of conflict by $16. In other words, it is much cheaper to build peace than to deal with the economic consequences of war. Since there are no calculations on the total cost of peace (mainly because it is too complicated to find an exact figure) we have produced a figure that represents how effective peace work is and how expensive war is. We are therefore asking ourselves in this campaign what would happen if we take 10% of the cost of armed conflicts in the world today and instead spend that sum – $102 billion – on peace?
What will you do with the money?
The money that comes into the campaign will first go to Svenska Freds' work for sustainable peace. Everything above 20 million Swedish Kronor, will go to the foundation Fredsfonden, that was created at the 110th anniversaire of Svenska Freds and aims to support research and work to prevent armed conflicts.
Since we first started in 1883, we have worked to create political will and social change, for political decisions that build sustainable peace and against initiatives that go in the opposite direction. Political unwillingness is the basis of many societal problems that lead to armed conflicts – and to the distortion of resources that we see today. With more resources, we can raise awareness, influence decisions and contribute to change, bring out more facts and hold those in power to account. Civil society, peace activists and human rights defenders throughout the world have done so through history and continue to do so every day. Svenska Freds has been part of the Nobel Peace Prize on four occasions in history; 1908 when one of Svenska Freds' founders received the award; 1910 when the International Peace Bureau (which Svenska Freds was instrumental in the formation of) received the award; 1997 when the The International Campaign to Ban Landmines (ICBL) received the award (Svenska Freds initiated and led the campaign in Sweden); 2017 when the international campaign for a nuclear ban, ICAN (International Campaign to Abolish Nuclear Weapons), of which Svenska Freds is part, received the Nobel Peace Prize.
Why a campaign in English?
Sustainable peace and the investments and priorities needed to reach it, is a global issue and a common challenge. We have chosen to undertake a crowdfunding campaign to get more people to invest in peace and have therefore chosen a language that can work internationally to get as many co-founders of peace as possible.